THE WINDSOR STAR 23/04/2014

Windsor's WW1 memorial comes out of the shadows

"This here was so obscure people wouldn't even know it was here," 89-year-old Second World War veteran Larry Costello said Tuesday.

Now the granite memorial with the names of 837 men and women from the Windsor area who died serving in the First World War is prominently displayed off Ypres Avenue at the end of Hall Avenue. The public is invited to join veterans and dignitaries Friday at 10:30 a.m. for the Memorial Park rededication ceremony.

"It's an honour for the First World War veterans," Costello said. "It should be somewhere where someone can see it. It was too obscure in the background."

The timing is right, he said. This summer will mark the 100th anniversary of the beginning of the First World War.

"It sort of gives me a nice feeling inside to know that Windsor is so willing to honour those who gave up their freedom," said Costello, a well-known local veteran who originally came from Montréal and served in the navy.

Memorial Park dates back to 1925. In 2008, about $80,000 was spent repairing the gates and restoring the large granite monument that was placed just beyond the gates inside the park. In 2012 the monument was vandalized with graffiti. Now the closed gates will serve as a backdrop for the memorial which can be seen from the road.

The Windsor Historical Society Veterans Memories Project got together with the City of Windsor to have the monument moved and to add flagpoles and better lighting. The light hasn't been installed yet. A total of $2,500 in ward funds from city councillors Al Halberstadt and Irek Kusmierczyk were approved in March for the project.

There is more meaning to the memorial because the First World War was supposed to be the war to end all wars, Costello said.

"If we would have lost the First World War, we wouldn't have been here to help to fight for this one," he said of the Second World War.

There aren't any First World War veterans left.

Vietnam veteran Ed Ruckle, 72, grew up in Windsor and served with the U.S. Air Force. Ruckle said to understand why the more prominent placement is important, you only have to read from a plaque on the Memorial Park gates with the poem In Flanders Fields: If you break faith with us who die we shall not sleep though poppies grow in Flanders fields.

"It really says don't hide us in the background somewhere. Get us out in front so that the grandchildren will never ever forget the price was paid for freedom," Ruckle said.

Matt Pritchard, a historian with the Windsor Historical Society Veterans Memories Project, said when you see the 837 names etched on the memorial, think of the 837 local moms who never got to welcome home a son or daughter after the war.

"Even driving by, someone might not even really know why Memorial Park is called Memorial Park, but now they can see the beautiful monument," Pritchard said.

shill@windsorstar.com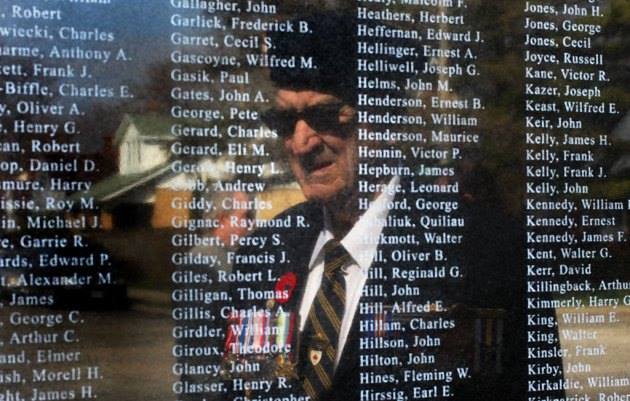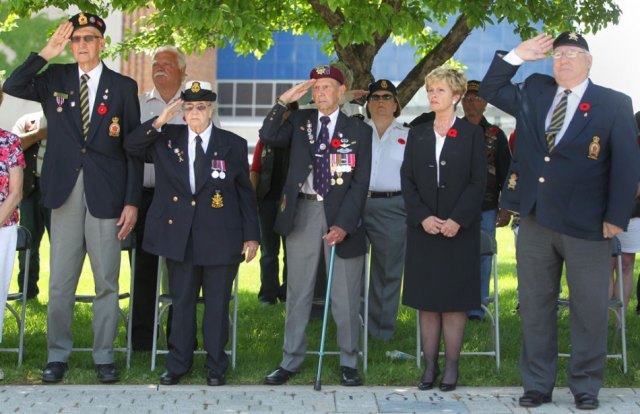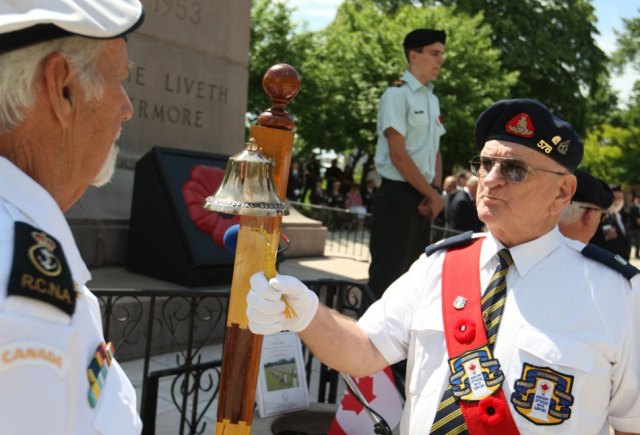 THE WINDSOR STAR 01/06/2014

Veteran Dave Parent and Roger DeGuire, Sgt. at Arms of the Windsor Veterans Memorial Services Committee, ring the bell in honour of the fallen at a ceremony at the Cenotaph at City Hall, Sunday, June 1, 2014. (DAX MELMER/The Windsor Star)

THE WINDSOR STAR 01/06/2014

From left, veteran Wilford Renaud, Dorothy Grondin, Veteran Ralph Mayville, Catherine O'Brien-Hart, wife of the late Michigan Senator, George Hart, and Armand Rock of the Windsor Regiment, attend a ceremony put on by the Windsor Veterans Memorial Services Committee at the Cenotaph at City Hall, Sunday, June 1, 2014. The committee honours veterans and comrades who have passed in the last year.
​(DAX MELMER/The Windsor Star)

THE WINDSOR STAR 04/22/2015

Veterans upset over pictures of youth atop war memorials

​​A local veterans group, outraged that students have taken pictures in the past climbing on local war memorials, is asking that people show respect during the upcoming prom season.

The Windsor Veterans Memorial Services Committee recently sent a letter to the mayor's office saying that prom pictures posted by youth last year on media sites, including The Windsor Star, showing students atop war memorials, "caused outrage, anger and insult to those of us that do honour them.
​
​Wayne Hillman, a Vietnam War veteran who sent the letter on behalf of the memorial committee, has met with local school boards to stress that pictures in front of war memorials are welcome, climbing on them is not.

​​"As a veteran, it's very disrespectful," said Hillman, 71, who was born in Windsor but served as a paratrooper with American forces during the Vietnam War. "Not only is it disrespectful but they can damage the monument. And what would happen if someone fell off it?

"But the most important thing is the disrespect."

Though people occasionally climb on a number of memorials, the one that seems to attract the most would-be gymnasts is the Boer War Monument — perhaps because of its large size — near the sunken gardens at Jackson Park.

Windsor war memorial concerns come at a time of increased media interest in the issue. A recently released report, based on logs written by soldiers leading up to the tragic shooting of Cpl. Nathan Cirillo at the National War Memorial on Oct. 22, shows that sentries dealt with abuse, drunks, vandals, stains and people climbing on sacred monuments.

​​A few weeks ago, a media flap erupted in the United States after a photographer posted a Facebook photo of what he called "two little brats" playing on the Vietnam Women's Memorial in Washington — in front of a veteran.

A spokesperson for Veterans Affairs Canada said Wednesday the ministry does not have an official position on climbing war memorials.

But Mayor Drew Dilkens knows what he thinks.

"Clearly, we don't want people climbing on war memorials," he said. "They're supposed to be solemn reminders of the sacrifices that have been made by others.

"But it may just be about an education process. You have to educate young people that climbing on a war memorial is not acceptable and that we ask people not to do that.

​​"Phil Roberts, Windsor's executive director of parks, said the city has developed a multi-point plan to curb the problem.

City officials hope to spread the word about memorial etiquette through the news media. Also, both parks workers and auxiliary police — who start in a couple of weeks — will be asked to pay special attention to behaviour around war memorials.

Finally, signs will be erected at parks with memorials — such as Jackson Park, Dieppe Gardens, Memorial Park, City Hall Square, Optimist Memorial Park and Coventry Gardens — explaining the nature of memorials that honour the fallen.

"This isn't really about wanton disregard for the monuments or any kind of malice," Roberts said. "It's mainly just that people have forgotten what memorials are about, and the kind of respect we should show to these memorials for those who have made the ultimate sacrifice ahead of us."

cpearson@windsorstar.com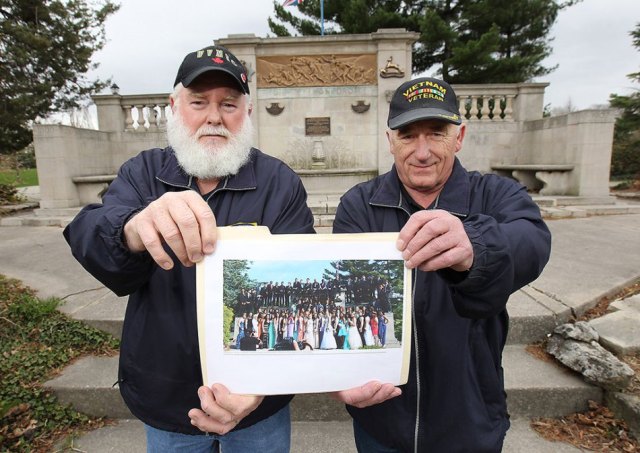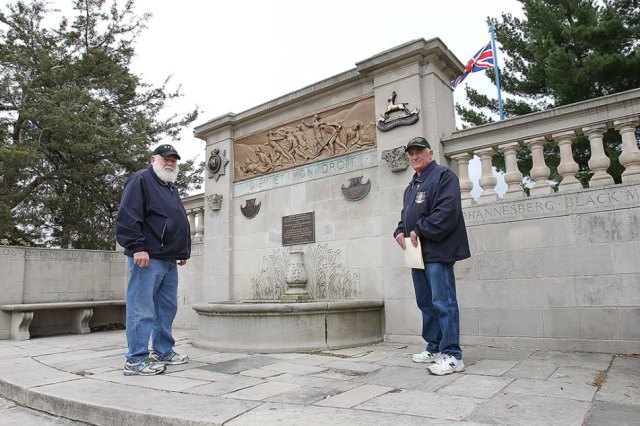 Karl Lovett, left, vice-president and Wayne Hillman, president of the committee display a group prom photo that was taken on the Boer War Memorial at the Jackson Park in Windsor. (DAN JANISSE/The Windsor Star)
The Windsor Veterans Memorial Services Committee, says veterans are upset that young people have taken pictures during prom time of themselves climbing on war memorials. Karl Lovett (L) vice-president and Wayne Hillman, president of the committee are shown at the Boer War Memorial at the Jackson Park in Windsor, ON. where many students have taken group photos on the monument.
​(DAN JANISSE/The Windsor Star

​​​​​​​​​​​​​​​​​​​Long-forgotten Windsor war veterans are finally emerging from graveyard anonymity to have their service and sacrifice publicly recognized thanks to a group of dogged and determined sleuths.

For more than 70 years, James Peerless Allison — who crossed the border from Detroit to enlist in Canada's efforts against the Germans in the First World War — laid buried and unknown under the grass at Windsor Grove Cemetery.

Allison, a cheese maker born in 1881, survived the bloody conflict and died in Windsor in 1945. Like others who might not have had money or family to attend to their final affairs, Allison was buried without a gravestone or even a name marker to identify his final resting spot.

Sherman Smith McDowell, born in Windsor in 1896, was a chauffeur and machinist when he swore an oath to King George V and was shipped overseas to help fill the trenches with eager young fighters. He also survived the war and, when he died in 1964, was buried in the veterans section at Windsor Grove. His final resting place soon disappeared under the grass.

Starting almost a decade ago, Wayne Hillman and the Windsor Veterans Memorial Services Committee began making it their mission to research and put names to occupied but blank plots in the veterans sections of local cemeteries.


"We don't want to forget about them — Windsor Grove was the first we picked," said Hillman. He's chairman of the 90-year-old committee dedicated to veterans, including helping organize and provide proper military sendoffs at their funerals.

The unmarked graves project began at just such a funeral, when someone noted the empty spaces in the otherwise crowded sections of the cemetery devoted to veterans.

"Whenever there was an empty spot, we figured there was a veteran in there," said Hillman.

It took countless hours poring over mostly handwritten cemetery, military and other historical documents to link names to the graves. It wasn't always easy — clerks entered wrong or altered names in attestation papers upon enlistment and names changed over the years.

​​Ralph Berlin, for example, a machinist born in Pittsburgh in 1895, became Ralph Bolean when he came to Canada in 1915 to enlist with the "Canadian Over-Seas Expeditionary Force." A year after Ralph Berlin became Ralph Bolean, and with anti-German sentiment at its peak, the City of Berlin, Ont., also had a name change — to Kitchener.

Ralph Bolean died in Windsor in 1976 but didn't rate a gravestone when interred at Windsor Grove.

"Chances are they were paupers," said Hillman, providing a possible explanation as to why these old soldiers had no grave markers.

Seven lost soldiers have so far been identified, their plots located and their names chiseled into proper gravestones. A dedication ceremony with Rev. Stan Fraser blessing each headstone takes place on Sunday, Aug. 21, at 1 p.m. at Windsor Grove Cemetery.

Organizers of the event — at Mercer Street and Giles Boulevard East — are hoping descendants might be among those attending.

All seven died in Windsor, with six of them having served in the First World War and the seventh soldier, Pte. Edward George Rankin (1909-1964), enlisting from the Ontario town of Seaforth in 1942 during the Second World War.

Others being honoured:

• Alexander Gillies (1886-1947), born in Glasgow, Scotland, and a bookkeeper when he signed up in 1916. He was an infantry private in the Winnipeg-recruited 107th Battalion of the Canadian Expeditionary Force which saw action in many of the bloodiest engagements, including Vimy, Passchendaele and the Somme.

• Clifton Blakemore (1896-1962), born in Hamilton and registered as a labourer from Kingston when he signed up in 1916;

• Gregory Garuk (whose original name could also have been Goruk or Caruk) was born in Poland in 1877 and was a Halifax cabinetmaker when he signed up to serve with the Canadians at the front. He died in 1959.

"We will give these soldiers the last salute," said Hillman.

Ottawa's Last Post Fund pays for the gravestones to adorn the burial sites of indigent veterans, but Hillman said there's a five-year waiting period to apply. As his committee discovered, some of Canada's deceased veterans are long buried and forgotten before the Last Post Fund is accessed.

"They're out of sight, out of mind — we want to make sure our veterans are never forgotten," said Hillman. "We try to right the injustice done years ago."

And that includes those veterans occupying nameless plots for which all the committee's research comes up empty. The Windsor group has sent a request to the Last Post Fund asking that gravestones marked "Unknown Soldier" be allowed over those plots within the veterans sections that are marked in cemetery registries as "filled — no record."

"I'm a veteran, but everything I have, I owe to a veteran," said Hillman, who expects to move on soon to the next local cemetery to research more unmarked graves and dig up more names.

windsorveteransmemorial Website Copyright © 2010